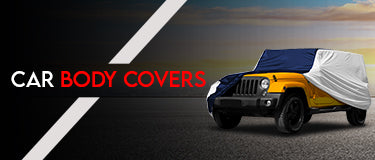 Car Body Covers
Buying a new car is always exciting! The shiny exterior that you can see your reflection in is completely soul-satisfying. But how long does that last? If you live in a metropolitan city where parking space is always inadequate forcing owners to park their cars out in the open or service lanes, giving your car a trusted protective cover should be your top priority.
Usually, parked cars are more prone to damage from scratches, dents, or dust, which result in additional expenditure on repairs and maintenance regularly. A perfect solution to save you from these hassles is the use of car exterior accessories that primarily includes Premium Car Body Covers. These waterproof, weatherproof and Durable Car Body Covers keep your car safe from dents, scratches, rain, dust, and other foreign particles.
AutoFurnish, a leading online retailer of Car Accessories offers a wide range of Premium Car Body Covers to give your car much-needed protection.
100% Waterproof Car Body Covers: Available in different colors and sizes to fit all prominent car brands and models, these Stylish Car Body Covers are made with robust polypropylene fabric with a plastic-coated film. This ensures the protection of your car from dust, scratches, and heavy rainfall.
Parkin White See-through Car Covers (with black piping): This premium range of Car Body Covers is designed to offer the highest level of protection from dust, moisture, and all other odds, especially for parked cars. These covers not only look good but also shield against moisture and dampness for your car to look as good as new!
Arc Series Car Covers: Made with 190T Polyester taffeta material, these Car Body Covers come with a stylish striped design and side pockets. Available in a variety of colors, and offering all-around protection, the Arc Series Car Body Covers are functional and elegant at the same time.
Acho Series Car Body Covers: These Car Body Covers are made from high-quality material and offer protection from all weather conditions. If your car is wrapped in an Acho Series Car Body Cover, you will never have to worry about your car's safety again.
AutoFurnish provides all types of Car Accessories from car body covers to handbrake covers. It also offers an extensive range of Technology-driven Auto Accessories to provide an advanced level of security and safety to your Cars & Bikes. Shop now and avail of great discounts. Be it car seat gap filler, car armrest, car tissue box, 5D car mats, 7d car mats, bike riding gears, compression arm sleeves the brand leaves no stone unturned to offer the best quality at jaw-dropping prices to all car & bike lovers.
Car Body Covers Online